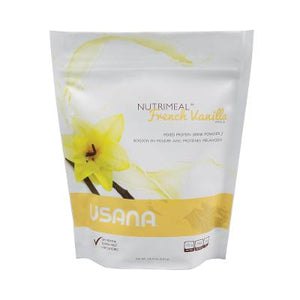 USANA Vanilla Nutrimeal™ is a nutritional shake mix that is designed to provide a convenient and healthy meal replacement option. It contains a blend of high-quality proteins, low glycemic carbohydrates, and essential fats, as well as a range of vitamins and minerals.
One serving of USANA Vanilla Nutrimeal™ provides 15 grams of protein, which helps to support lean muscle mass and promote satiety. The low glycemic carbohydrates in the shake help to maintain steady blood sugar levels and prevent energy crashes, while the essential fats provide a source of healthy omega-3 and omega-6 fatty acids.
In addition to its macronutrient content, USANA Vanilla Nutrimeal™ also contains a range of essential vitamins and minerals, including vitamin C, vitamin D, vitamin E, and calcium. These nutrients help to support overall health and well-being, and are especially important for individuals who may not be getting all the nutrients they need from their diet alone.
USANA Vanilla Nutrimeal™ is also gluten-free, soy-free, and dairy-free, making it suitable for individuals with dietary restrictions or sensitivities. It is easy to prepare and can be used as a meal replacement option for breakfast, lunch, or dinner, or as a convenient snack on-the-go.
Overall, USANA Vanilla Nutrimeal™ is a healthy and convenient meal replacement option that provides a balanced blend of essential nutrients. It can be used as part of a healthy diet and lifestyle to support weight management, overall health, and well-being. As with any dietary supplement, it is important to consult with a healthcare provider before incorporating USANA Vanilla Nutrimeal™ into your diet to ensure that it is safe and appropriate for your individual needs.